Why UK clothing sector must work to bridge the skills gap | Apparel Industry Analysis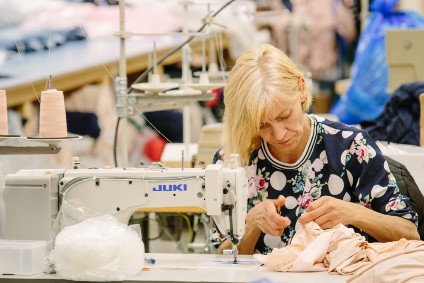 Jenny Holloway, founder of Fashion Enter, told the panelists she is "gobsmacked" at the lack of support for manufacturing in the UK
A lack of proper understanding of the wider apparel supply chain, particularly around raw material costing and transparency, are among the biggest challenges currently facing UK clothing brands and retailers. Bridging this gap requires deep technical and creative skills and educating the future fashion talent pipeline, executives believe.
Speaking on a recent webinar hosted by the Association of Suppliers to the British Clothing Industry (ASBCI) in partnership with e-learning platform Motif, Jackie Lewis, Motif's course development director, said the key problems related to sourcing and the supply chain relate to a lack of understanding of all the moving components that go into making the end product. 
"People don't go into factories anymore so they don't understand all the steps that are involved to get from concept to commercialisation. They don't understand that the cotton has to be picked, ginned, spun into a yarn, it has to be woven or knitted and dyed, and all of those steps along the way. I honestly feel the understanding of the wider supply chain is one of our biggest challenges, particularly raw material pricing."
Talking with Jenny Holloway from Fashion Enter, a UK-based social enterprise specialising in training and manufacturing; Kate Hills from Make it British, a platform promoting UK manufacturing and British brands; and specialist recruitment consultant Lindsay Clarke from Planet Personnel, Lewis added another challenge is transparency. 
"It's talked about a lot, but it's true," she said. "As a retailer and brand, if you understand where that garment has been made, what factory it was made in, and who was involved in producing it – subcontractors, raw materials suppliers – you start to get a better picture of the complexity."
For Hills, understanding how to cost a garment is also part of the problem. "They're trying to buy everything too cheaply because they're trying to compete with all of this GBP0.99 clothing. The problem is people don't really know now. Back in the day, people would probably have relatives that worked in factories and knew how long it would take to make something."
Held in the wake of the collapse of retailers Debenhams and Arcadia Group, the 'Smart Skills Beyond 2020′ panelists agreed these issues were all contributing factors to the retail giants' demise. 
"There's a gap between product selection and product development and more people are in roles where they're just selecting product like it's in a sweet shop instead of understanding the real complexity of building a product up from scratch," Lewis noted. "We accept it's probably more expensive to make in the UK but if you understand product engineering, you can get to a price that's do-able and competitive."
Hills, meanwhile, said it was "obvious we needed a local supply chain for these big retailers" and outlined three key issues she believes have caused the problems, stemming from a lack of specific skills.
"Number one is that the buyers are only trained to look at the cost price," she explained. "They're not understanding all the other things that go into actually making a profit on that product because the big directors are just looking at cost prices. 
"Junior buyers don't visit factories because all of the factories are overseas. You can't negotiate a price if you haven't seen how that works" – Kate Hills
"The next thing is the more junior buyers don't visit the factories because all of the factories are overseas. When I started my career you'd go to a factory, you'd get down and dirty looking at how the whole manufacturing process. You can't negotiate a price if you haven't seen how that works and too many of the younger buyers now have never been to a factory. 
"Third is that the buyers move around too often so they're not building proper relationships with the factories."
Holloway told the panelists she is "gobsmacked at the lack of support for manufacturing in the UK," adding the country is the obvious choice for small quantities to sell at full price.
"Then you don't have margin issues by discounting and anybody that buys that full price product, they have the propensity to keep that garment for longer. It's obvious if you pay GBP5 for a garment you don't then have the propensity to keep the garment, it goes into landfill."
Lewis pointed to the importance of data insight. "All retailers and brands have got to maintain a competitive edge and connection with the customer," she explained. "Actually understanding what they want and need is going to become more and more important as we move forward."
Innovation is also key. "To really be relevant and continue to be relevant you have to be innovative, and to be innovative at product level you need deep technical and creative skills."
Bridging the skills gap
The panel, the first in ASBCI's Survival of the Smartest series, which will run as part of a lead-up to the organisation's digital conference on 'smartification' in May, follows Motif's 'The State of Skills in the Apparel Industry 2020′ report.
Now in its second iteration, the survey is part of Motif's ongoing efforts to address the training and continual learning needs of the apparel industry worldwide. For workers in technical roles, it found there is not enough mid-career development, which is driving increased dissatisfaction.
In keeping with the report, panelists said while it is unlikely UK manufacturing will ever return to its heyday levels, if the country is to have a stronger manufacturing foothold in both the textile and apparel industry, the desirability of "less sexy" roles such as machinists and pattern cutters must be enhanced. 
"The majority of manufacturing has gone offshore," explained Clarke. "Our machinists, supervisors, left the industry and retrained so we have lost a lot of the core skills. You have to now bring back that skill of teaching machining right from the basics, from the factory floor."
The challenge, however, is to get people interested in wanting to be machinists in the first place, or even wanting to work in a manufacturing environment at all.
"A lot of people want the UK to manufacture, but the manufacturers we work with are at the higher end and a lot of it is being exported for luxury brands. So if we're going to increase their manufacturing we need to [fill the] skills gaps and make those roles as interesting as possible for people to come in and train and see that there is progression. It's not just a job for a few months, it's a career."
Holloway agreed, noting the difference between Fashion Enter's two factory locations of London and Wales is "phenomenal."
"I can't attract young people in London, there are so many jobs in digital, people want to be designers, they want their own brands, it's about expectations. If we could just get someone like the UK Fashion & Textiles Association (UKFT) to really get behind technical skills and push how good it is to be able to make your own product, it would be fantastic but we do need to change the mindset."
She added that when recruiting for graduate-level pattern cutters or garment technologists, the amount of candidates is "so small" compared to those for a trainee buyer or designer.
"You've got 20% if you're lucky that want to do a technical role and 80% of the more sexier roles, as they're seen, which is design. A lot of things we've done with the ASBCI through conferences for students is to let them know how interesting and how progressive a career in technology can be."
While the issue is a particular bone of contention for Lewis, she noted the industry is now at a tipping point. 
"It's not about it being sexy, it's about it being real, and needed and valued" – Jackie Lewis
"People who understand supply chain and have really strong technical skills and pattern cutting skills, we're going to have to start paying a lot of money for those people because they're just not out there. It's reflective in the feedback we get, it's not about it being sexy, it's about it being real, and needed and valued."
According to Hills, an increasing number of brands are setting up their own mini micro-manufacturing units to produce the required small minimum order quantities.
"If they can cut out the middle man and make it themselves – and lots more brands are doing that now – that is great to see," she said. 
A dual-edged sword
Two more topical factors that UK manufacturing currently has to contend with are the Covid-19 pandemic and Brexit.
Both of Fashion Enter's facilities were tasked with making disposable NHS scrubs for a period of six months, with Holloway referring to the pandemic as a "real dual-edged sword."
"I have to say, it's been a bit of a lifesaver quite frankly and it made me realise for the first time that we do need stability. We're so used to doing 500 units and jumping around and I cannot tell you how stressful that is for everybody on the shop floor. I know that's the model we have, but suddenly to have this stability of making 20,000 isolation gowns a week has just been fantastic, and I think it's just criminal that you have all these reports coming in now about how we're still importing PPE."
She explained the impact of order cancellations for suppliers.
"We still have bills to pay, we now have nearly 200 staff with the Welsh operation and I need to pay those people, irrespective of the work that's coming in. There's so much talk about lean and ethical supply, and working with your supply base. Well, please do. Please action what you say and work with us through the good times and bad."
In terms of Brexit, Holloway said it has been an "absolute nightmare."
"In London, we had 12 different nationalities and 85% of our workforce is eastern European. We lost people literally overnight when the first Brexit was announced and it's just dead, we can't recruit, which is why our Fashion Technology Academy is now so important to handle skills."
Clarke concurs. "The challenge is mainly with the staffing, with the workforce, and finding the people to do those roles when people were coming from eastern Europe to do them."
Hills, meanwhile, warned of a potential surge in counterfeit 'Made in Britain' products in relation to rules of origin and labelling.
"We are now in danger of people putting 'Made in Britain' labels in when actually they are importing it from elsewhere once we are out of the EU. There is going to be an increase in interest in buying British-made products, but will they be genuine British-made products? That's my concern."
Sounding a more optimistic note, Holloway said despite the uncertainly wrought by both Brexit and the Covid-19 pandemic, they have also presented a real opportunity for all domestic manufacturers. "We need to galvanise that but the price has got to be comparable."
Lewis agreed: "Whatever opportunity we face in the UK to drive more home-made product we need to just put our arms around it and do it."