The Duchess of Cambridge wearing Emilia Wickstead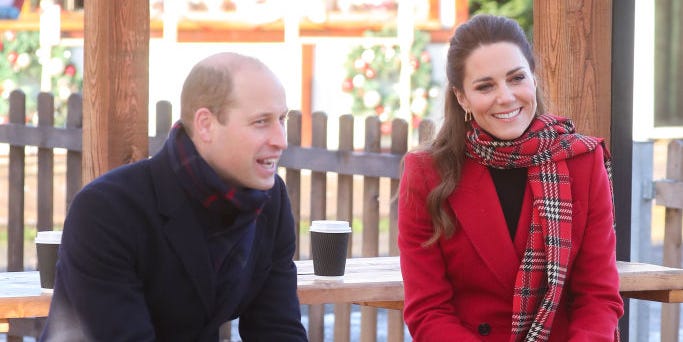 For the three-day UK tour that the Duke and Duchess of Cambridge are undertaking this week, Kate has clearly reached into her wardrobe for some of her most festive pieces. These include; a number of Christmas-coloured Alexander McQueen coats, suede Ralph Lauren boots, printed scarves and one of her biggest festive wardrobe hits ever, a red tartan midi skirt by Emilia Wickstead.
Kate was pictured wearing the chic design as she arrived at Cardiff Castle with husband William this morning.
This is not the first time we have seen the royal in the skirt. In 2018, she paired the printed number with a black cardigan and black boots when she hosted a Christmas party for military families at Kensington Palace.
And of course, any close followers of the the Duchess of Cambridge's style will know the name Emilia Wickstead. The New Zealand-born fashion designer is the brains behind one of the duchess' most-worn labels, with her pristinely tailored coats and brightly-coloured dresses making up a healthy chunk of the royal's wardrobe. It's no secret that Kate is a huge fan of Wickstead's designs, which seem to find the perfect sweet spot between royal-ready formalwear and modern silhouettes with playful prints and hues for her to indulge.
Similarly, Wickstead (who is conveniently based in London) has benefited hugely by having the duchess as her most high-profile client. The royal's immense selling power has led to a number of Wickstead's dresses selling out within hours of her appearing in them. The designer even nodded to the royal by renaming one of her most-worn dresses after her. The 'Kate' dress – a wool design featuring a midi-length A-line skirt, waistband detailing, a slim-fitting bodice and bracelet-length sleeves – is owned and worn by the duchess in three colours.
Kate's relationship with the label stems way back to her days as a newlywed royal, when she stepped out for her first solo military engagement to mark St. Patrick's Day in March 2012 wearing a deep green Wickstead coat, a Lock & Co hat and a Cartier gold shamrock brooch.
Seemingly the start of a long love affair with the brand, Kate commissioned the designer shortly after in May of the same year to make her a pale pink coat dress for a luncheon at Windsor Castle. Clearly in love with the feminine design – based on a dress from the autumn/winter 2012 collection – the duchess re-wore the £1,200 pleated look a mere 11 days later for a garden party at Buckingham Palace.
Similar to Alexander McQueen (another of the royal's favourites), the duchess has also called on Wickstead for many of her maternity looks. Notably, in what is considered her first official maternity look, the royal wore a bespoke powder blue cocktail dress featuring an empire waist by the label for a function at London's National Portrait Gallery, while pregnant with Prince George in April 2013. Months later, the mother-to-be wore a standout buttercup yellow coat dress by Wickstead (a modified version of the 'Marella' coat) to the Queen's annual garden party, chicly covering her ever-growing bump.
For her royal tours, Kate often ensures her overseas wardrobes are packed with looks from the designer – namely, during she and the Duke of Cambridge's tour of Poland and Germany in 2017 and, of course, as a fitting tribute when they visited the designer's native New Zealand in 2014. On the second day of the couple's royal tour of India and Bhutan in 2016, the royal proved her unique ability to convert sales with a single wear when a white, £1,700 fit-and-flare dress, worn to meet young entrepreneurs in Mumbai, became an instant sell-out.
Later, when arriving in Bhutan on the fifth day of their tour, Kate stepped out in a gold coat dress – a recycled look, first debuted when she attended the Order of the Thistle ceremony in 2012. As royal fashion followers will know, the duchess' repeat-wear is far from an isolated incident: in fact, she frequently re-wears many of her favourite Emilia Wickstead looks.
One printed baby blue midi dress in particular has had an outing a total of three times. First worn when she attended the RHS Chelsea Flower Show in September 2019, the duchess wore the £1,635 summer dress with £48 Monsoon espadrille wedges and £10 gold filigree earrings from Accessorize, proving her penchant for mixing high and low. Shortly after in December 2019, she wore the winning floral look once more alongside Mary Berry on A Berry Royal Christmas, and again the following year in August 2020 to meet small business owners in South Wales.
Not all that unexpectedly, the Duchess of Cambridge seems to have a Wickstead favourite: the Kate dress. Not solely for the fact it has been renamed after her (though we imagine this is a significant part of the appeal) but, too, with the dress's classic silhouette and timeless style, it has become a go-to for her everyday royal engagements, with the duchess owning and wearing the A-line creation in three colours.
Kate first wore the lavender version of the dress during a visit to Hamburg in 2017. In 2018, the royal wore it again to the Global Ministerial Mental Health Summit. In May 2019, she debuted the forest green version for an appointment with the Anna Freud National Centre for Children and Families in London. In November 2019, the duchess wore the navy blue version to the launch of the National Emergencies Trust in London.
In 2018, Matches Fashion stocked the dress for £1,350 in navy, pink and red – and naturally, stock quickly became depleted with the general public eager to get a slice of the royal's wardrobe.
Most recently in October 2020, the duchess wore a Wickstead dress for an engagement at Buckingham Palace, where she and her husband held an audience with President Volodymyr Zelenskyy of Ukraine and First Lady Olena Zelenska.
For the couple's first royal engagement at the palace since lockdown, the duchess wore a cornflower blue dress, which was cinched at the waist with a belt and featuring a v-neckline. The shade of the dress even matched one of the colours of the Ukrainian flag, a subtle tribute to her guests.
In need of some at-home inspiration? Sign up to our free weekly newsletter for skincare and self-care, the latest cultural hits to read and download, and the little luxuries that make staying in so much more satisfying.
Plus, sign up here to get Harper's Bazaar magazine delivered straight to your door.
This content is created and maintained by a third party, and imported onto this page to help users provide their email addresses. You may be able to find more information about this and similar content at piano.io