Stylish Beaded Necklaces to Wear This Summer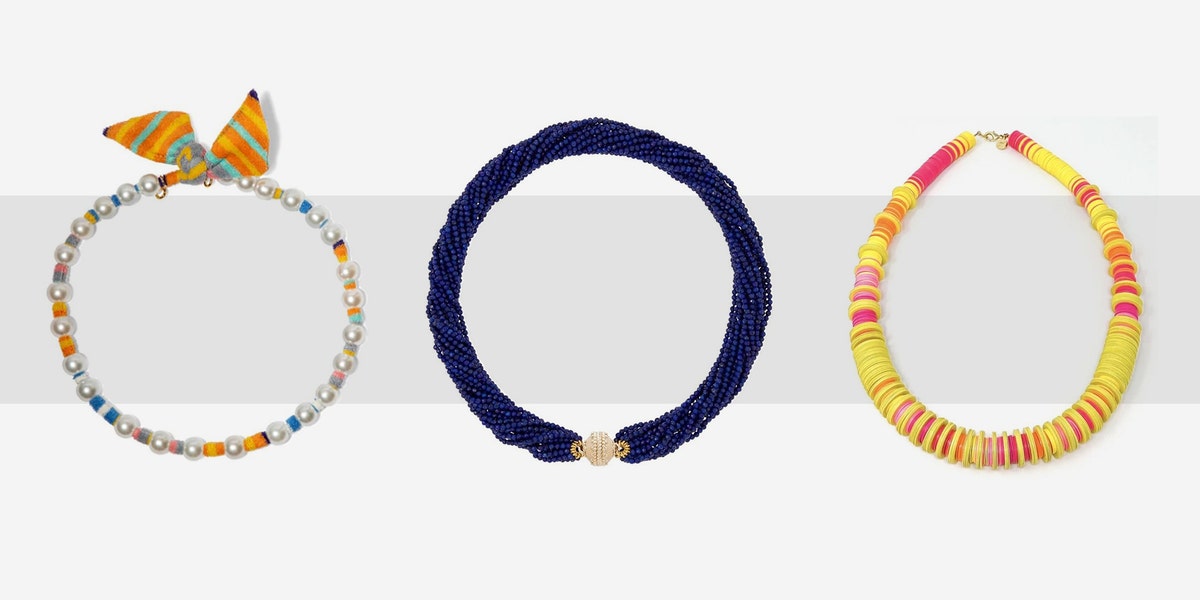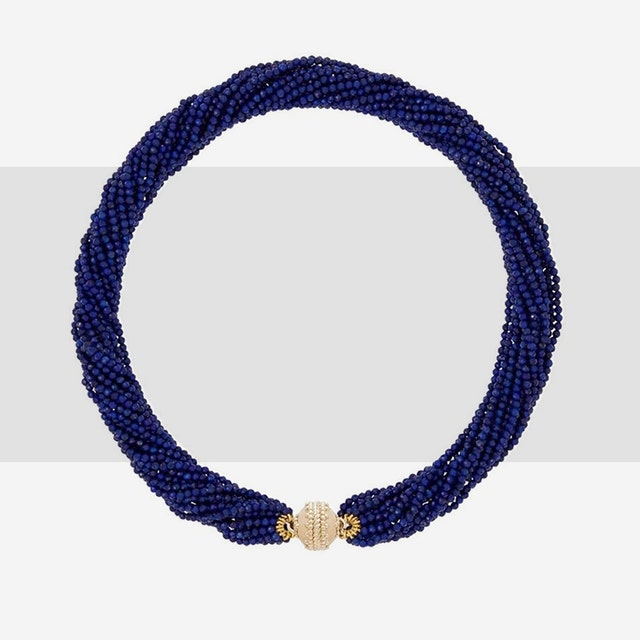 In the jewelry world, diamonds, pearls, and gemstones of all varieties are always seen as the star, or the crowning jewel if you will. But recently, a nostalgic jewelry format has taken the jewelry world by storm once again, beaded necklaces. Beaded necklaces have re-captured our attention with their cheery colors, handmade craftsmanship (which often makes each one unique), and their ability to add dashes of laid-back joy to every outfit.
If we were to analyze what makes the beaded necklace so appealing, it would be hard to decide what we love the most. Is it the fond memories of earlier childhood years, and making beaded pieces for Mother's Day, or friendship bracelets? Maybe it's the homemade, crafty, DIY quality they have, which is extremely relevant in this moment of time. Or maybe, because they are just so cute. No matter what draws you to the beads, we all agree that they feel special right now. Their uniqueness can speak to everyone's individual style, and their customization-friendly nature brings a personal feeling to your jewelry box, or to someone who deserves a gift.
No longer are beaded necklaces relegated to the back of the metaphorical trends line, nor are they constrained to the past eras they had a strong hold on. These are definitely not your middle school summer camp's beaded necklaces. Elegant, chic, and definitely the "It" accessory of this summer, we might say. Below, our favorite beaded necklaces on the market, but don't forget to unleash your creativity and perhaps try out some beading of your own.
Advertisement – Continue Reading Below
Surfer Necklace with Ethiopian Opal, Large
Yenden
yenden.com
$185.00
These beaded necklaces by Yenden will perfectly compliment a white button down, swimsuit, or even a sweater on chillier nights. Opt for a pop of color to really complete the look. 
Constanza
Cashfana
cashfana.com
$40.00
This bold necklace is made from a hand woven chain, and a legend.  These style of heads are called  "Testa di Moro," and they hearken back to a tale of love, betrayal, and ultimately, beheading. The head symbolizes a scorned young woman's lover, whose head she kept on her balcony as a flower vase. 
Alexander Necklace
Pamela Love
pamelalove.com
$650.00
This beautiful necklace has the right balance of everything — pearls, gold, and lapis. It's extremely versatile, and can be dressed down or up depending on the occasion. 
ABC Necklace
Roxanne Assoulin
roxanneassoulin.com
$75.00
Roxanne Assoulin is known for her colorful, lighthearted designs, and this is no exception. This customizable necklace is sure to be a staple in your jewelry box. 
Colorful Life Necklace
Mercedes Salazar
mercedessalazar.com
$77.00
This necklace by Mercedes Salazar is handmade by master artisans in Bogotá, Colombia. Consider it the layered look will complete a casual summer outfit. 
Necklace with Tourmaline, Turquoise, and Variscite Beads
Marisa Klass
marisaklass.com
$5,200.00
Few things are more beautiful than shades of deep green, and this necklace by Marisa Klass will complement every skin tone—and ensemble—throughout the summer. 
Black Caviar Beaded Necklace
Lagos
lagos.com
$12,000.00
Lagos' Black Caviar necklace will complete your cocktail party look. 
Laguna 18K Goldplated, Recycled Glass & Coral Beads Necklace
Lizzie Fortunato
saksfifthavenue.com
$195.00
Lizzie Fortunato's pieces are always gorgeous, but this Laguna necklace goes the extra mile. The recycled glass and coral beads create a stunning pop of color that will give you a summer feeling year round.  
Purple Tourmaline Beaded Necklace
Jacquie Aiche
marissacollections.com
$7,250.00
Jacquie Aiche took the beaded necklace and added some real glamour with this purple tourmaline stone. 
The Ranny | At the Copa
Elsie Frieda
elsiefrieda.com
$255.00
Go bold for the summer with this necklace by Elsie Frieda. It'll look amazing with a maxi dress or a white tee shirt. 
Faux-Pearl Skinny Striped Scarf Necklace
Lele Sadoughi
saksfifthavenue.com
$125.00
Lele Sadoughi's scarf necklace will bring an element of whimsy to any ensemble. Even as the weather gets colder, wearing it over a turtleneck will combat the winter blues. 
Black Label Mutli Tourmaline Bracelet/Necklace
Shashi
maison-de-mode.com
$895.00
Versatility is everything—so it's very important that this piece can be worn as a necklace or a bracelet, depending on your mood. Another important factor is sustainability, and this Shashi convertible accessory is handmade in New York, and supports the city's garment industry. 
Tahitian Pearl, Crystal & 18kt Gold Necklace
Harwell Godfrey
matchesfashion.com
$2,100.00
The Tahitian pearls that make up this Harwell Godfrey necklace are all sourced directly from Tahiti. The quality of saltwater in the region gives the pearls undertones of purple, green, and gray. This necklace will be like wearing a natural wonder everyday. 
Marquerty Blue Leaf Pendant Bead Necklace
Silvia Furmanovich
marissacollections.com
$3,300.00
You can't go wrong with a blue beaded necklace, it's a wardrobe staple that we highly advocate for. And when the leaf pendant is detachable, what's not to love? 
One of a Kinda Diamond Beaded Candy Necklace
Irene Neuwirth
ireneneuwirth.com
$16,160.00
Irene Neuwirth has made it clear that wearing a beaded necklace does not have to mean sending your strand of pearls to the bench. Blending elegant elegant pearls and diamonds with a more casual leaning beaded necklace creates an interesting and fashionable contrast.
18K Yellow Gold, Diamond & Turquoise Beaded Necklace
Jenna Blake
jennablake.com
Turquoise is a summer favorite for most jewelry lovers, and with a little pop of diamond shimmer, this necklace by Jenna Blake is just what the doctor ordered. 
Boboli Pearly Necklace
Notte Jewelry
nottejewelry.com
$122.00
This handmade necklace by Notte Jewelry promises to bring some extra joy into your day to day, and it definitely delivers. 
Bahama Necklace
Dannijo
revolve.com
$100.00
Go for a bold beaded statement with this necklace by Dannijo. 
Michel Lapis Multi Strand Necklace
Clara Williams
clarawilliams.com
$2,800.00
Let's be honest, we can't get enough lapis. And with this necklace by Clara Williams, you will have some dazzling lapis on tap for whenever you (or your outfit) needs a boost. 
This content is created and maintained by a third party, and imported onto this page to help users provide their email addresses. You may be able to find more information about this and similar content at piano.io
Advertisement – Continue Reading Below