Molly Goddard Unveils Bridal Collection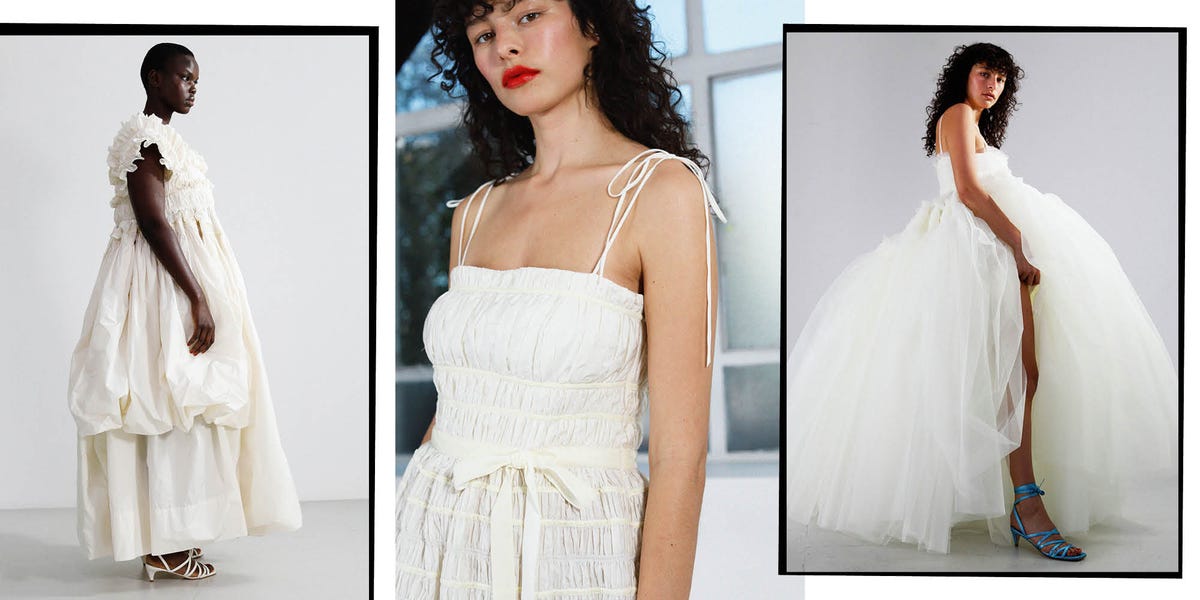 From drastically reduced guest lists and non-refundable deposits, to unfinished wedding gowns and cancelled honeymoons, 2020's 'nearlyweds' have been forced to drastically downsize their nuptials, or postpone their big days for the foreseeable as a result of the ongoing Coronavirus pandemic.
However, as with news of a possible vaccine around the corner and the confirmation of a second season of our beloved Emily in Paris, it appears as though the worst year in modern history has a hopeful, final act, particularly for those in want of a fashion-forward wedding gown.
Why? Because designer Molly Goddard has just unveiled her first ever bridal wear collection.
Though stylish brides have longed turned to the Brit's off-the-rack vibrant tulle designs and bespoke bridal services, this new line offers a midpoint between the two, with more neutral colour choices and affordable prices.
Available to buy from midday on Tuesday November 17 through her website and London studio, the customisable collection features 12 of Goddard's already-released gowns now in an ivory hue, in addition to metallic shoes and ruched bags.
To celebrate the launch of these Villanelle-worthy gowns, we spoke to the designer all about small weddings, her dream Molly Goddard bride, and what makes a special day so, well, special.
Molly on… what brides should wear to their smaller weddings
'If everything else is being scaled down, your dress is the one thing that doesn't have to be.'
Molly on… her customisable wedding dresses
'What's quite fun about these dresses is that [brides] have the option to change things, like ribbon colours.
'Of course, I love that people buy our off-the-peg dresses and wear them for their weddings – I think that's really special – and it's amazing we have the facility to make custom dresses. But, this collection offers an opportunity for people to have more options, and creates a more realistic and accessible way of buying bridal if you want something from us.'
Molly on… choosing her bridal collection
'There are big dresses and small dresses and everything in-between. We thought a lot about the dresses that suited all body shapes and felt very special, even if some are simpler than others, particularly since you can wear them again.'
Molly on…her dream Molly Goddard bride
'Probably Rihanna, in the Simona.'
Molly on…what makes a great wedding
'Make sure there's enough food to balance out the amount of alcohol. And dancing – to me dancing is very important at weddings. That's what's so fun. There's no excuse not to dance, really.'
Molly on… bridal accessorising
'We've made metallic shoes in blue, cream and silver, plus bags – I think a coat would be a nice addition, but we haven't created one of those quite yet!'
Molly on… inclusive bridal wear
'I'm always really conscious of sizing.
'[When you're] doing fashion shows it's quite hard to have a diverse range of models because it means you need to have a diverse range of samples, which [requires] an enormous amount of logistics, kind of like making three collections rather than one in many ways.
'We manufacture clothes up to a UK size 18 as standard, and always have done, and also make samples for the red carpet and editorial in larger sizes – it's been really successful.
'It's always really important for me to make clothes for everyone, and for all different sizes. The whole point of this bridal collection is that when things get a bit more back to normal people can come and try on the dresses in our showroom, in our studio. I hate the idea of someone coming in and there being nothing that fits them.'
Molly on… attending weddings
'I don't know if I'm a romantic, I probably am, but probably in denial. It's only recently that I've started going to friend's weddings, and they are the funnest days and very special. I think being involved in any way is really lovely.'
Molly on…managing a tumultuous wedding season
'I think it's always good to be optimistic and hope for the best. Next summer is going to be a brilliant summer.'
Like this article? Sign up to our newsletter to get more articles like this delivered straight to your inbox.
In need of more inspiration, thoughtful journalism and at-home beauty tips? Subscribe to ELLE's print magazine today! SUBSCRIBE HERE
This content is created and maintained by a third party, and imported onto this page to help users provide their email addresses. You may be able to find more information about this and similar content at piano.io