fashion photographed at the Tower of London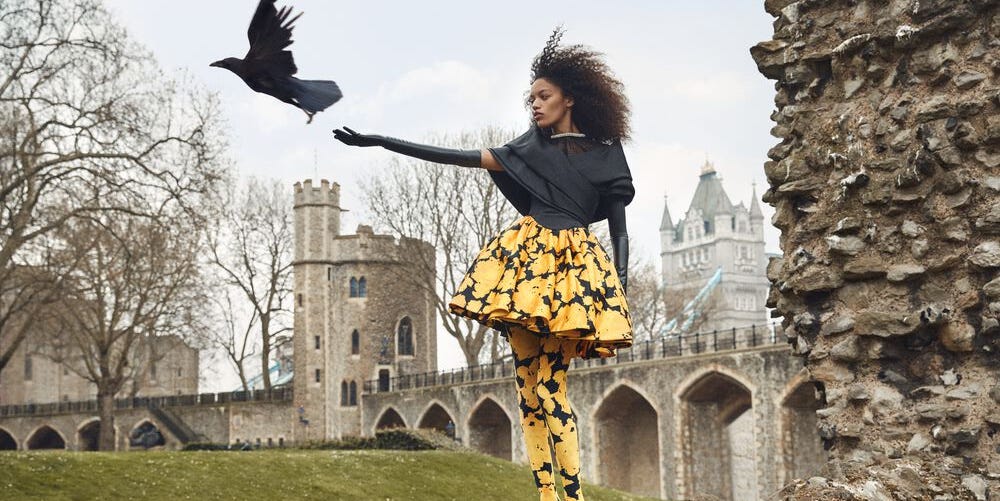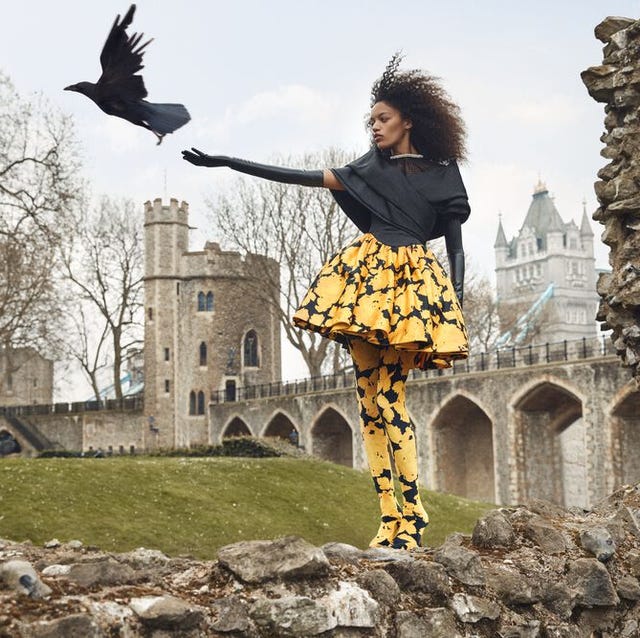 Richard Phibbs
In the first ever fashion shoot at the Tower of London, a loyal court of leading British designers pay sartorial tribute to the Queen with looks inspired by her timeless elegance.
Photographs by RICHARD PHIBBS
Styled by CATHY KASTERINE
Edited by AVRIL MAIR
Advertisement – Continue Reading Below
1
Sarah Burton, Alexander McQueen
"The red rose is quintessentially feminine and timelessly beautiful
– a symbol of romance, passion and love. It is also resilient and
strong; there is a power and a dignity to this queen of flowers.'
Silk taffeta dress; leather belt; leather boots; antique silver earrings, all Alexander McQueen A/W 19
"The Queen's fashion legacy is to be unafraid of colour, and for me, her most unforgettable outfit was a banana-yellow suit with matching accessories. However, I felt bold black tulle was perfect for shooting alongside the Tower of London – they're two strong silhouettes."
Tulle dress, Molly Goddard A/W 19
"The Queen was an early pioneer of power dressing for women. It's
an idea I come back to often. Her wardrobe is dynamic, intentional
and reflective of the times we live in. This look is made in gold
metallic jacquard, which gives a dramatic, lustrous effect, yet is
refined by the classic silhouette. It is a dress to stand out and to celebrate in."
Jacquard dress, Emilia Wickstead A/W 20
"It is inspiring how the Queen uses her platform to wear such a variety of designs, while retaining her clear sense of personal style. For this look, I revisited my archive and considered a selection of interesting colours and majestic volumes with lots of movement in honour of her iconic wardrobe."
Silk organza dress, Roksanda Pre-Fall 19
5
Andreas Kronthaler, Vivienne Westwood
"Corsets give a feeling of armour – worn by Queens."
Flock tulle dress, Vivienne Westwood Couture S/S 16
"I am an incurable romantic, and my aim is to seek and define
beauty on my own terms. It's about mixing traditional elements
with newer ones – the perfect design language for the Queen,
who has always shown timelessness and regal elegance."
Layered pleated dress with gloves, Bora Aksu S/S 18. Worn with gold and diamond earrings (just seen), Jessica McCormack
"I was delighted when I read Her Majesty was going fur-free in 2019, as this is something so close to my heart. It was a major moment in history that emphasised the importance of putting an end to the fur trade once and for all."
Faux-fur coat, Stella McCartney A/W 15
"The Queen has done more for the hat than anyone else, and has kept it alive in the imagination of people all over the world. It was irresistible to have this 17th-century sailing-ship hat photographed at the Tower of London, given the epic backdrop near the river."
The Ship Hat, Philip Treacy S/S 95. Worn with corseted silk jacket, Vivienne Westwood Gold Label S/S 12
"This is the finale look from my S/S 18 collection, the inspiration
for which was a 1956 meeting between the jazz musician Duke
Ellington and the Queen. After this, Ellington wrote a piece of
music called "The Queen's Suite" – the romance of that gesture
really influenced the collection."
Duchesse satin dress; embroidered leather gloves, both Erdem S/S 18. Worn with Perspex-heel brogues, Simone Rocha A/W 18
"I think the Queen is always presented so beautifully and I particularly love her attention to detail; she's the finest representation of British good taste. This dress has an extremely regal cape, yet its detachable quality represents the future of modern royalty."
Caped dress, Huishan Zhang S/S 22
11
Justin Thornton and Thea Bregazzi, Preen
"This pink satin devoré dress is inspired by our first memories of the Queen, of her Silver Jubilee look, when she wore pink on pink. We were both very young at the time and had never seen this before. Her sense of colour is so daring and bold."
Silk satin dress; scuba bralette top, both Preen by Thornton Bregazzi S/S 22. Worn with platinum and diamond necklace (in hair), Boodles
"I have always admired the Queen when she wears white. This look is from my A/W 18 collection, and has tulle patchworked with lace and brocade, and a bow embroidered with gold tinsel. I also like her subtle sartorial nods to the countries she is visiting."
Crystal-beaded apron-bow dress; scoop-neck patchwork dress; Perspex-heel brogues, all Simone Rocha A/W 18
"I try to reflect the Queen's sophistication in my work. I've
chosen black for this shoot, which I thought would best represent
the architecture of London. It's all about the shadows and contrasts
in this regal, decadent city."
Moire and velvet dress with beaded turtleneck; custom headpiece in collaboration with Cassie Rendle, both Harris Reed A/W 22
"For this historic shoot, we wanted to honour Her Majesty with a traditionally regal colour, so I reimagined an A/W 22 runway look in a rich purple shade.A sequined dress forms the base of the outfit, sitting underneath a delicate, fine knit that is wrapped around the body, distorting the shine of the sequins to give a truly refined aesthetic, fit for a Queen."
Sequin and knit dress, Victoria Beckham A/W 22.Worn with hat, Molly Goddard. Earrings; rings, all Stephen Webster
"The Queen's fashion legacy has been in making the formal
fabulous. This long-line coat nods to the work of the Hardy Amies
period, when Her Majesty's tailoring was becoming more
streamlined. My favourite style moment is when she wears the
Order of the Garter: the detail, fabrication and splendour transcend
fashion, and I adore the history, theatre and pomp it delivers."
Duchesse silk jacket dress, Giles Deacon A/W 16
16
Michael Halpern, Halpern
"As an American, I look at the Queen as this otherworldly
figure. Although she is quite classic in her silhouette, it's her
exuberant choice of colour that people will continue to reference
for a very long time."
Tartan coat; matching miniskirt; polka-dot shirt, all Halpern S/S 17
17
Ian Griffiths, Max Mara
"In 1977, the Queen came to Derbyshire on her Silver Jubilee
tour, dressed head to toe in a single shade of teal, and this
was my first real-life encounter with a true icon. Day after day,
she appeared in colours you had never seen outside a paint factory.
Here, I've chosen a powdery primrose yellow, and I've
designed a teddy-bear coat with the year of her accession
embroidered on the back."
Alpaca and silk coat; hat; brooch; knitted gloves; bag; shoes,
all Max Mara (custom)
"The Queen once wore an amazing matching hat and coat
in acid green, with patent black shoes; to me, that's daring and
subversive. So, I wanted this Tudor mini-dress at the Tower of
London. It's a play on the royal look – crystals, silk duchesse
satin, a little crinoline… and then a bit of latex."
Duchesse satin dress; velour tights; latex gloves, all Richard Quinn A/W 20.
The June issue of Harper's Bazaar UK is out now. SHOP
Hair by Paul Donovan.
Make-up by Zoe Taylor at CLM Agency.
Manicure by Michelle Humphrey at LMC Worldwide.
Stylist's assistants: Crystalle Cox and Gal Klein.
Production by Raw Production.
Set design by Gillian O'Brien.
Model: Kukua Williams at Premier Model Management.
Shot on location at HM Tower of London with kind permission
of Historic Royal Palaces.
This content is created and maintained by a third party, and imported onto this page to help users provide their email addresses. You may be able to find more information about this and similar content at piano.io
Advertisement – Continue Reading Below