Covid news live: Latest updates as Boris Johnson announces new national lockdown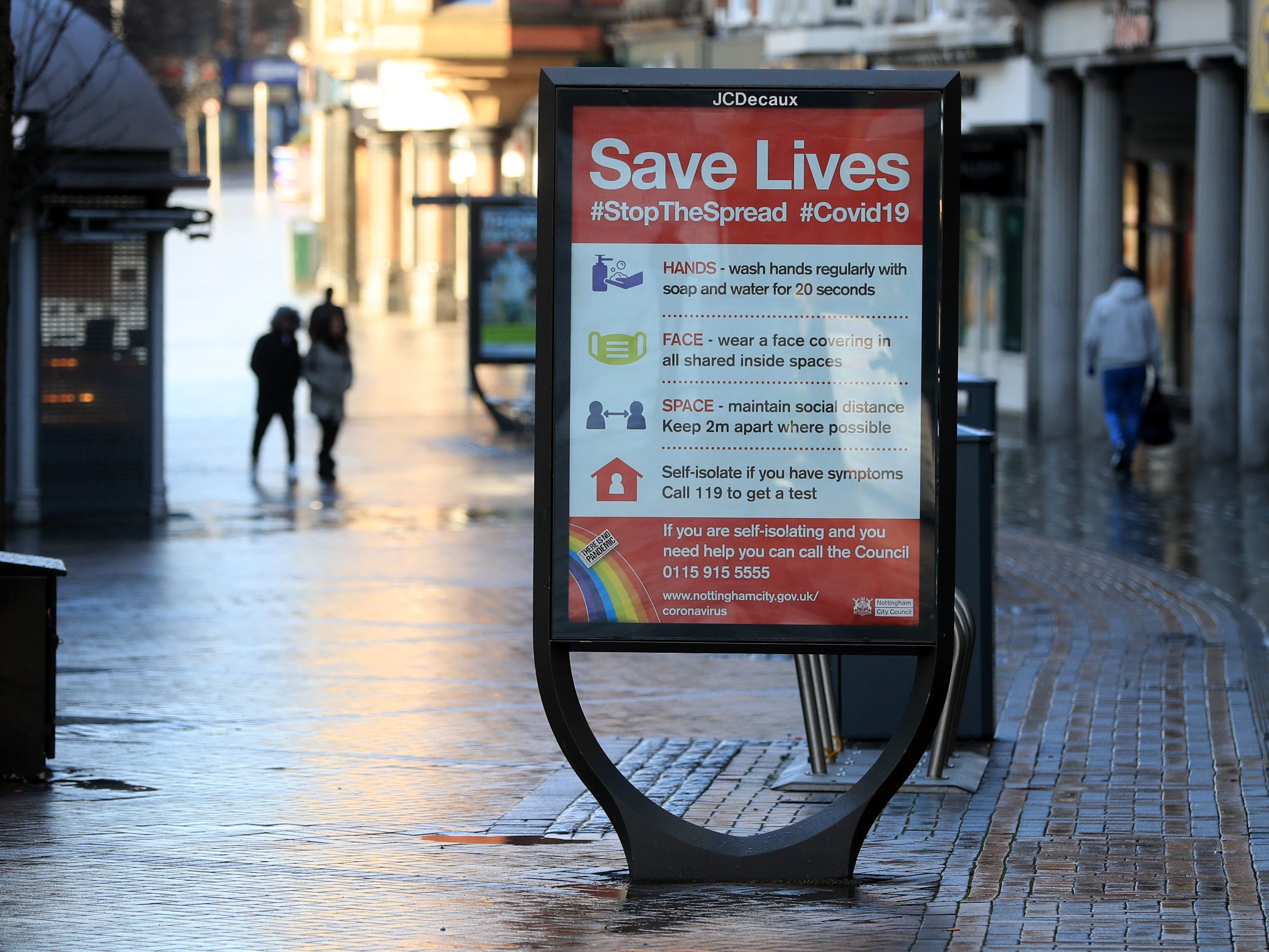 Boris Johnson has announced that England is to enter its third national lockdown, which means the government is instructing everyone to "stay at home", and that all schools will close from tomorrow.
The prime minister made the call in a televised address on Monday evening, in which he said the "weeks ahead will be hardest yet".
"As I speak to you tonight, our hospitals are under more pressure from Covid than at any time since the start of the pandemic," he said. 
It comes as government figures today revealed the UK has reached another record daily high of 58,784 new coronavirus cases, making this the seventh consecutive day in a row there have been over 50,000 new Covid cases across Britain. 
Scotland's Nicola Sturgeon announced earlier on Monday that Scotland would also enter a national lockdown, and that it was now law that all residents living on Scotland's mainland must "stay home". 
Meanwhile, the first doses of the Oxford University and AstraZeneca vaccine have been administered. Just over half a million doses will be available from Monday, in what Matt Hancock, the health secretary, described as a "pivotal moment" in the UK's fight against the coronavirus.
1609794160
Khan wonders why PM failed to mention masks and border control
Responding to Boris Johnson's address this evening, Sadiq Khan questioned why it had taken the PM "so long to reach this conclusion".
The Mayor of London criticised the lockdown announcement, saying the government should have gone further by extending the rules on wearing face masks to cover busy outdoor areas and toughening up controls at the borders.
"This announcement by the government of a full national lockdown was inevitable," Mr Khan said. "The virus is out of control and our NHS is increasingly at risk of being overwhelmed by an exponential rise in cases, with Covid admissions to hospitals now significantly higher than at any time during this pandemic."
Mr Khan also called for greater financial support for businesses and action on the "woefully insufficient" help available to the self-employed and those self-isolating
Sam Hancock4 January 2021 21:02
1609793346
'Chaos': MPs left unsatisfied with PM's announcement
Sam Hancock4 January 2021 20:49
1609793017
When will the new lockdown end?
Announced by Boris Johnson at a briefing from Downing Street, the new national lockdown will see limits introduced on household mixing as well as schools forced to turn to digital learning.
Coming into effect from 5 January, the measures follow on from the four tier system introduced to allow areas with low Covid-19 prevalence to live under less strict restrictions.
So will the latest restrictions end in the middle of February, as Mr Johnson said? 
My colleague Vincent Wood reports:
Sam Hancock4 January 2021 20:43
1609792679
More than half a million businesses to close under new rules
It comes as no surprise that the new lockdown will see UK-wide businesses suffer, as even takeaway services are shuttered in an attempt to beat the new Covid variant.
More than 550,000 business will be forced to close in England as of tomorrow, according to real estate adviser Altus Group, which includes 401,690 non-essential shops, 64,537 pubs or restaurants, 20,703 personal care facilities and 7,051 gyms or leisure centres.
The group added that 21,119 local council schools as well as 2,645 private schools will also have to close in England.
Sam Hancock4 January 2021 20:37
1609792296
Explained: New national lockdown rules and restrictions
Boris Johnson has announced a new national lockdown with emergency measures to control the rapid spread of coronavirus, following intense pressure from ministers and unions to do so.
The new lockdown will remain in place until the middle of February, and ministers will keep the measures under constant review, said Mr Johnson, and urged everyone living in England to stay at home from tonight if possible.
My colleague Kate Ng has more on all the new rules and restrictions:
Sam Hancock4 January 2021 20:31
1609791816
Johnson: 'Schools closed and exams cancelled'
On schools, Boris Johnson said in this evening's address:
"Because we now have to do everything we possibly can to stop the spread of the disease, primary schools, secondary schools and colleges across England must move to remote provision from tomorrow, except for vulnerable children and the children of keyworkers."
He added early years settings such as nurseries will still be accessible, and that due to all the changes – "it's not possible or fair for all exams to go ahead this summer, as normal".
Mr Johnson said education secretary Gavin Williamson will work with regulator Ofqual to put in place "alternative arrangements". It is thought students will receive A-Level and GCSE results in the same way as last year's cohort, where grades were based on classroom attainment. 
The PM added: "We will provide extra support to ensure that pupils entitled to free school meals will continue to receive them while schools are closed, and we will distribute more devices to support remote education."
Sam Hancock4 January 2021 20:23
1609791399
'Stay at home': Johnson announces new national lockdown
Boris Johnson has placed England into a third national lockdown until at least the middle of February following warnings from experts that the NHS is at risk of being overwhelmed.
The health service could be overrun in just three weeks without urgent action, the prime minster said.  
Although the restrictions will not become law until tomorrow, Mr Johnson said he was instructing the public to stay at home from tonight.  
Our Whitehall editor Kate Devlin has more:
Sam Hancock4 January 2021 20:16
1609791339
Alcohol takeaway and deliveries now closed, PM says
All restaurants, pubs and other hospitality settings must close their doors to customers from tomorrow under the new rules announced by the prime minister in a televised statement from No 10.
Alcohol takeaways and deliveries are to be banned from tomorrow until mid-February in England as Boris Johnson clamps down on socialising under the new lockdown regime.
Our political editor Andrew Woodcock reports:
Sam Hancock4 January 2021 20:15
1609789795
'We must act now,' warns chief medical officer Whitty
Sam Hancock4 January 2021 19:49
1609789542
OECD warns governments against austerity due to Covid
The OECD's chief economist has said governments should keep spending money to help limit the economic damage caused by coronavirus. 
In an interview with the Financial Times,  Laurence Boone warned that people would reject further rounds of austerity.
"If we thought there was popular resentment because the quality of jobs was going down [before Covid-19], then it's going to be much worse after this pandemic," she told the newspaper.
My colleague Ben Chapman has the story:
Sam Hancock4 January 2021 19:45