18 Tips On How To Be Stylish And Dress Better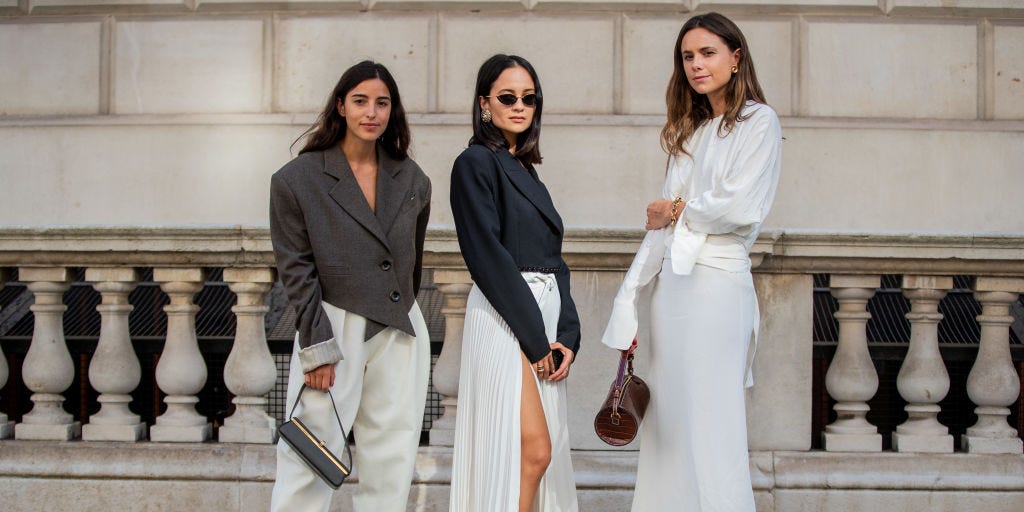 Working in fashion for over 20 years, people often ask me for my tips on what they should be wearing, how they should be wearing it, what trends to buy into and what is woefully out of fashion.
As someone who principally loves fashion for its self-expression, for its ability to speak for its wearer and tell the world how that person is feeling, I am always reluctant to tell anyone how to dress or enforce any rules. As far as I am concerned, wearing what you feel like – and what makes you feel like you – is the only fundamental.
However, there are a few tips, tricks and hacks that I have learnt over the years. From that necklace that elevates basics to the benefits of regular clear-outs and changing room mantras ('thou shalt not impulse buy'), they help me when buying something or putting together an outfit in the morning, whether I am working from home or getting ready to reemerge into a brighter new world post lockdown.
Writing my book, The Ten: Stories Behind the Fashion Classics added a few more. Thanks to conversations with experts like designers Barbara Hulanicki, Martine Rose and Samuel Ross, and researching wardrobe icons from the trench coat to the miniskirt to humble jeans, I have a newfound appreciation of wear-every-day classics, and how they can combine with new pieces to refresh your look each season.
Follow these 18 tips on how to dress, and your own path, and I think you can't go far wrong:
1) Keep It Simple
Learn from the best – from Sade to Coco Chanel. As Mademoiselle Chanel once said: 'Before you leave the house, look in the mirror and take one thing off.' A 'base' of core items helps.
Everyone will have their own version of what that entails but a white shirt, a good cashmere sweater (try COS) and a well-cut trench make good investments. I wear these time and time again.
---
2) Fit Is Everything
You know that women who always looks pulled-together? You'll notice her clothes always fit her properly. By contrast, clothes that don't fit – a wonky hemline, a too-tight polo-neck – can impact on a first impression.
Taking the time to pay attention to fit is a surefire way to add polish. Make sure:
The seam of a shirt hits your shoulder
A skirt zips up neatly
A shoe meets the back of your heel
They're subtle but these tiny things make a difference. A good tailor is also your friend here – I often buy items and have them altered at Rosario Tailoring in Savile Row.
---
3) Find A Graphic T-Shirt That Expresses How You Feel
Graphic T-shirts are perhaps the epitome of a sartorial statement – whether you're communicating your music taste (a Beychella T-shirt) or recent boxsets (a 'La' T-shirt by Philip Normal).
Go for organic cotton if possible to keep things sustainable, and longer-lasting. If you're a novice at this kind of dressing, don't think graphic T-shirts have to be combined with a plaid shirt and sneakers. The likes of Kendall Jenner and Emily Ratajkowski elevate theirs with high waisted trousers and ankle boots.
---
4) Accessories Can Be A Game Changer
A pair of statement earrings, a skinny new belt for your not-so-skinny jeans or a necklace worn with an LBD, this is the lazy girl hack to change up much-loved items.
This is another tip where 'keep it simple' works – pile on the accessories and you'll look too busy. Zoe Kravitz is a good reference here – her use of a 'wow' earring is masterstroke in a style that is otherwise lowkey.
---
5) Take The Time To Try Jeans
I once interviewed Jeff Rudes, the co-founder of J Brand, and he said: 'Every jean should count – they all have to be "the one".' Ideally, you want a well-edited 'wardrobe' of jeans that work for different moods and occasions – a high-waisted pair for a night out, boyfriends for a lazy Sunday etc.
Japanese denim is still the connoisseur's choice and can be found at brands ranging from APC to Uniqlo. Too much stretch should be avoided if you want your jeans to last. Think differently about your purchase too – vintage is a great option, and Ganni x Levis new capsule allows you to rent your denim.
---
6) Study Your Favourite Women
You might show a hairdresser a picture someone with your ideal cut. Apply the same logic to your outfit. Whoever your style icon is, follow fan accounts and keep a folder of favourites for easy inspiration. This works even better if you organise in categories – what to wear for work, weekends and evenings out.
I love looking at accounts dedicated to Carolyn Bessette Kennedy or Tamu McPherson's All The Pretty Birds for a work look, Bo Carney is my weekend inspiration and Rihanna – who else? – provides my out-out goals.
---
7) Be Organised
I do a clear-out every season and try to think less about if I like an item, and more about if it actually fits in my wardrobe and lifestyle. If the answer is 'no', I sell it or give it away. My clothes are hung on a rail, and organised in categories (skirts, shirts, etc) but I know others who prefer to organise based on categories ('work', 'evening' etc).
Find a system that works for you, whatever allows you to think quickly when finding what to wear. It's hard at first but this will ensure getting dressed is simplified – and therefore much more fun. The Netflix show The Home Edit is a good organising resource – its founders Clea Shearer and Joanna Teplin's Instagram is full of ideas.
---
8) Dismiss Trends At Your Peril
Staying open to style trends is how you keep it modern. Try a trend to know if it works for you – with shops open again, this could be as straightforward as taking a bunch of styles into the changing room. If you feel like yourself when you put something on, it's one to invest in.
Don't forget to shop your own wardrobe – trends are nothing if not cyclical. Those high-waisted jeans you wore with heels five years ago look brand new when you switch to trainers, for example. It's also worth watching a trend and seeing if it has 'legs' – as in goes beyond a season. Recent examples include the midi-dress or – of course – tracksuit bottoms. Buying into these is a savvy way of looking current while sidestepping fashion victim territory.
---
9) But, Also, Wear What Feels Right
Imposter syndrome is no fun in your wardrobe. If you put on, say, a pair of cycling shorts and constantly pull them down, or don't want to stand out too much in highlighter pink, don't do it. Wear what you feel good in. That way, you'll look good too.
Saying that, there is no harm experimenting. I sometimes will trial new looks when seeing close friends – I did this with mismatched earrings recently, for example. If they pass the test in this environment, your confidence will grow, and they will become part of your wardrobe rotation.
---
10) Don't Be Afraid Of Multiples
Alexa Chung has talked abut how she: 'collects things in multiples' including white shirts. This is the sign of a style pro, because it signposts that they have discovered the building blocks of their personal style. If you like something, having different versions of it makes getting dressed a breeze.
Every woman will be different here, but investing in multiples of the classics – jeans, T-shirts, shirts – is a no-brainer. Think of it as variations on your always-effortless uniform, an edited wardrobe of the pieces on hand whatever the occasion – the cocktail jeans, the 9am meeting shirt, etc.
---
11) Contrast Is Your Friend
The high-low way of dressing – popularised by Jenna Lyons when she was at J Crew – remains a pleasing and refreshing hack. Lyons described herself as: 'an equal-opportunities clothes wearer' and you should be too.
Pairing a slip dress with sneakers – for example – is a modern classic, as is a print clash, à la Susie Bubble or playing with proportion (think Bella Hadid's combining oversized hoodies with tiny crop tops). On the catwalk, Gucci, Prada and Balenciaga are labels to look to.
---
12) Don't Think Too Hard
Overthinking it can ruin a good outfit. Look at the likes of Jane Birkin or Chloë Sevigny who make even the easiest of items, like a white T-shirt, translate to chic. Again, this is about simplicity. Study these women and you'll realise they never jam too much in.
Just a tweak of quirk – a straw basket, a pair of gym shorts – is enough to make it pop. There are pieces that you can add to your wardrobe that give you the basics to be creative. A good white T-shirt (COS or Sunspel are go-to brands), a pair of mid-length hoop earrings and – if in doubt – a red lipstick.
---
13) Choose Comfort
It's so boring to say but you will have such a better day if you do. From footwear to silhouettes, 'suffering for fashion' seems like it's finally an outdated concept. That doesn't mean heels are out, of course – its whatever works for you. Planning ahead helps. I think 'activity-first' when planning my outfit.
It sounds obvious but check the weather. If I am likely to be outside all day I will wear trainers over loafers (for example) to make sure my feet are comfortable, and warm. If I leave the house at 8am but won't be home until after dark I often bring a non-bulky sweater with me, one I'm happy to put on after dark. There is nothing chic about being chilly.
---
14) IRL Appeal Should Win
After a year at home, clothes that play well on Zoom are starting to feel tired. To embrace reemergence, fall in love with subtle fashion, pieces that make face-to-face impact. This can often come from discovering your favourite items all over again.
That fluffy jumper might not work online but its a way to draw interest to your outfit in a three-dimensional world, or a blazer you haven't worn for a year is a way to elevate – and bring new life – to a favoured pair of sweatpants.
---
15) The Originals Are Often Still The Best
Think Levis for jeans, Agnes B for white shirts, St James for Bretons, APC for bags. Not only are these the experts doing what they're good at, they bring a certain OG elevation to your wardrobe.
While they might have higher price points than the same styles on the high street, it's worth spending a bit more. These are, after all, the pieces you will wear the most. Buying pieces that will last, when you think about it like that, makes sense.
---
16) Make Friends With Colour
Even if you aren't the type to wear a rainbow, you can use colour to enhance your outfit. 'Pops' of brights is a good start – a neon bag instead of black, a pair of lilac socks with your sliders, even a red lip.
I love the way Tracee Ellis Ross uses colour – whether that is combining lilac and pink, or a particularly bright shade of lipstick with a black and white T-shirt – and how Roksanda Ilincic combines colour on the catwalk. Her use of bright blue and orange inspired me to combine a pumpkin coloured jumper with a pair of indigo jeans.
---
17) Shop Vintage For Extra Fashion Points
It's sustainable but also a way to find a point of difference that lifts your outfit. Think of that great 1980s sweatshirt, or a Gucci-worthy seventies blouse. Depop, eBay and good old-fashioned charity shops are the top picks. When shopping IRL, avoid anything with a visible stain on it – sadly, it's probably been discarded because of that – but assess tears and damage.
Sometimes items can be saved by taking them to the tailors, or I often change the buttons on shirts or cardigans for a refresh. Online, set up alerts for a headscarf on wish list pieces. And it's best to stick to sellers who have lots of pictures and measurements. Look through them carefully. The more information you have, the more likely you are to have a success.
---
18) Go On Instinct
Ultimately, I can't tell you what to wear. It's much better to listen to that inner voice inside. When buying clothes, think less about trends and more about how it will work with the rest of your wardrobe, if it sits well with your style.
Also, never forget to assess how you feel when you put something on. Does it make you feel like the best version of you? Does it make you happy? If yes, that – ultimately – is when you should buy it.
'The Ten: The Stories behind the Fashion Classics' by Lauren Cochrane is published by Welbeck (£14.99 hardback).
Like this article? Sign up to our newsletter to get more articles like this delivered straight to your inbox.
In need of more inspiration, thoughtful journalism and at-home beauty tips? Subscribe to ELLE's print magazine today! SUBSCRIBE HERE
This content is created and maintained by a third party, and imported onto this page to help users provide their email addresses. You may be able to find more information about this and similar content at piano.io